Sustainable Aquafarm Facilty (SAFE) - Berlin, NY
Driving back from the Williams College hockey game Sunday, we noticed a reddish glow in the night sky off in the distance as we crossed the Petersburgh Pass. We tracked it down to the SAFE (Sustainable Aquafarm Facility) plant in Berlin.
The
LED (light emitting diodes) greenhouse grow lights
focus on a spectrum that promotes optimum growth.
The facility, at the site of the former Seagroatt Roses property, just north of the village of Berlin, produces hydroponic lettuce and, I understand, eventually fish and caviar. The annual production of heads of lettuce at this plant is expected to be in the millions.
"In the federal state Berlin (New York, USA) a renewed greenhouse (where various types of lettuce is grown) is fully installed with a LED lighting system of Lemnis Oreon. In the last weeks of 2016 the lettuce was planted in the 1,5ha greenhouse. From the 2nd week of 2017 all LED lamps are fully operational, this means 16 hours per day. The cultivation system is provided by Dry Hydroponics, PB Techniek has taken the entire installation on its behalf.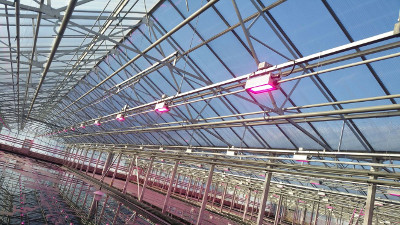 The greenhouse in installed with 150 uMol/m2. With this lighting system, the grower can get in winter almost the same production as in the summer period. In addition, the selected spectrum contributes to a perfect quality of the crop with a beautiful color.

The growers have chosen the Oreon Grow Lights because of the efficient water cooling concept. This water cooling concept ensures that the LEDs remain optimally cooled, which is the best guarantee for trouble-free growing for many years. The high quality standard of the lamp also contributes to this. Additionally, the grower has full control over the thermal energy of the lamps, which ensures a more optimal growing climate with a energy conscious cultivation."
Click here
for a February Eastwick Press article
Aquafarm in Berlin is now in Production
.